Regular price
Sale price
$2.50
Unit price
per
Sale
Sold out
Apricot 
Fruity bright apricot with notes of peach.
China Lily
With its lily & white floral notes and fresh air, China Lily is sensual but perfect for any occasion.
China Musk
China Musk is sensual & sophisticated, intensified by a warm, light musk base note for rich presence. 
China Rain
A subtle classic. A complex floral, China Rain is intoxicating and even a little aphrodisiac. You'll get compliments from men & women. "What is that scent you're wearing?" Guaranteed to be authentic Homebody China Rain.
Coconut
Lucsious and creamy, a single note, fresh and creamy coconut.

Crystal 
Clean, fresh, sweet, subtle...with a hint of powder.

Cucumber
Crisp green and watery, this single-note aroma is instantly fresh and clean.

Dreams
The one and only! A cult classic. Warm floral & fruity. Truly a wonderful unique fragrance. 

Grazia
Grazia is a gentle breeze of pure white flowers with a touch of bergamot & white musk. Inviting, pure & open.
Lavender
Beautiful, aromatic and effective, this amazing Lavender Essential Oil offers not only a lovely and classic fresh, floral scent, but is also therapeutic as it both calms and uplifts the spirit, while soothing and balancing the skin.  This exclusive blend contains a bouquet of Lavender species to create a lovely, wearable essential oil bouquet.
Meadow
Reminiscent of a flowery beach canyon, where the green brush is dotted by sage, night-blooming jasmine, eucalyptus and wild scotch broom.
Morning Child
Bright & happy, a little powdery. A complex white floral. Morning Child is cheerful & open. Makes any day sunny.
Muguet des Bois 
Muguet des Bois is the essence of the perfect classic Lily of the Valley.  Light & crisp. 
Pikaki
A fresh, clear island fragrance, Pikaki is open & optimistic with notes of musk, tuberose & fresh greens. Perfect for warm days of summer.
Pink!
Pink! Is unique, bright, clean, sunny & warm.  A sweet blend of vanilla, fruit, and a trio of florals.
Rain
Rain is light as air with warm base notes. Sophisticated complex florals & precious woods with a hint of soft muguet.
Sage 
Fresh and herbaceous sage. Perfect for both men and women!
Sun-kissed 
The quintessential essence of summer, glistening skin-kissed with sand, sea and sunscreen.  Notes of neroli, sea salt and a hint of coconut.
Sweet Jasmine
This luminous scent draws you in with its enticing top note of sweet Sicilian orange, romantically laced with a heart of alluring jasmine, plus radiant Spring blossoms- freesia, lilac, magnolia, peony and Tiare flower.
 Tea Rose
Our timeless true light & gentle rose essence floating on a warm breeze. Delightful with tea accords & grassy top notes.
Tibet
A unisex fragrance with notes of Himalayan cedar, amber, pine, and mandarin.  Ethereal green notes grounded with the rich clarity of exotic musk. Imagine the rolling green plateaus of springtime in Tibet with a touch of incense.
Vanilla 
A true vanilla bean sensation is balanced with powdery clean musk nuances, enveloping the sweetness and heightening its warm sensuality.
Waterlily
A smooth, fluid waterlily heart note with a soft musk dry down. Touches of lotus, jasmine, rose & bergamot.
White Flowers
If you're looking for gardenia or jasmine, give this beautiful floral bouquet a try.  Notes of jasmine, honeysuckle, wisteria and narcissus are kissed with hints of green leaves and wild grass.  Though not comprised only of white flowers, this fragrance is reminiscent of a special blend of the past created by Terry, so we are bestowing it with the name she gave it...white flowers. 
Share
Cruelty free & no animal products
View full details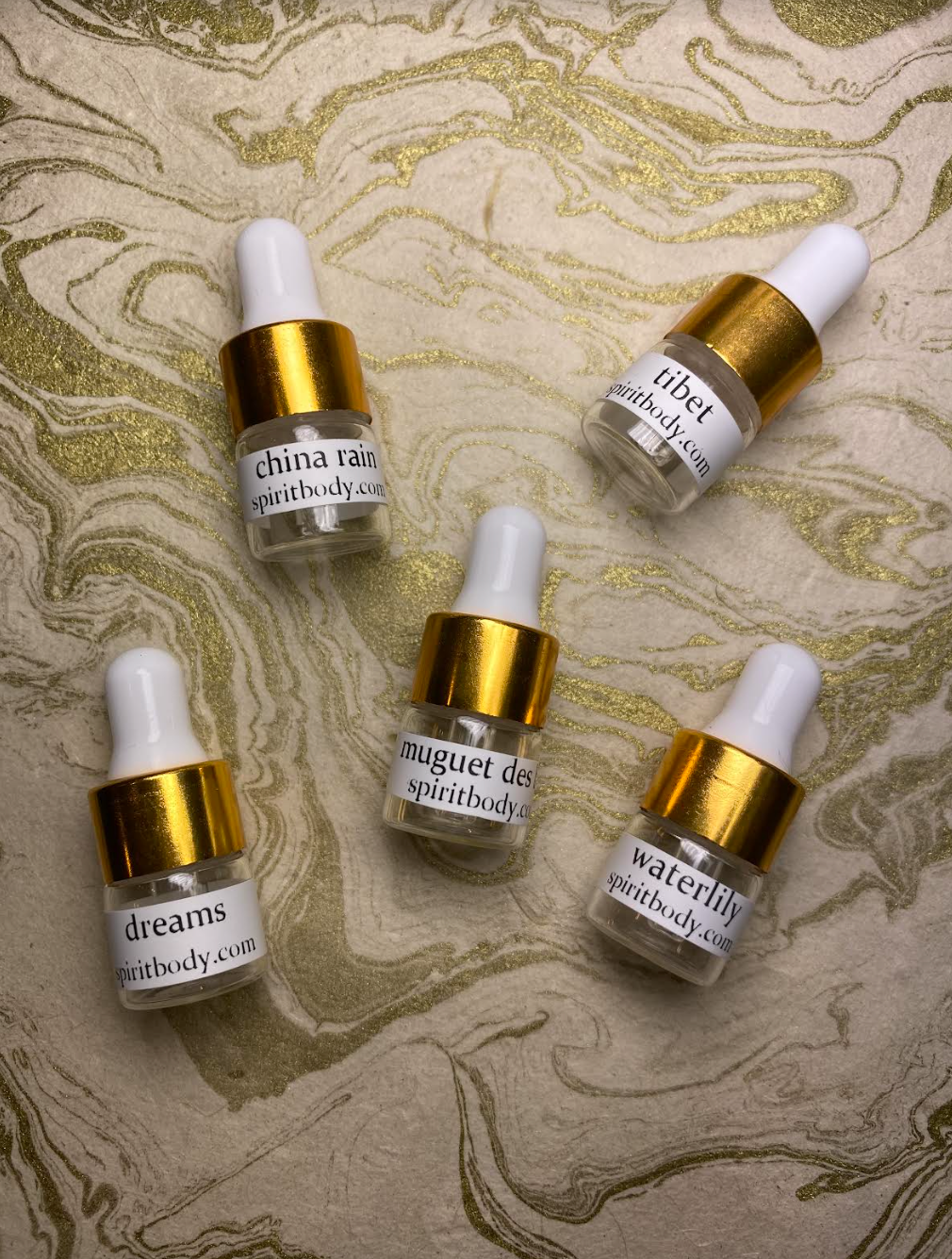 You smell incredible
Have been wearing China Rain Oil forever!!! I love the ADE Lotion which I triple dose!!!
Terry is the sweetest person who has helped me for years!!!